Westies are often seen as a popular choice for people who live in an apartment or a condo. But can Westies swim? Do they like to? The answer is yes!
In addition, they are small, energetic, and don't need much space to run around.
This content takes about 4 minutes to read, but if you are in a hurry we have included a table of contents to let you see what the content is at a glance.
Despite not being natural swimmers and having some disadvantages, many of them love to swim! However, they have short legs and bodies that are better suited for pursuing prey close to the ground or doing anything that requires digging.
Westies can swim and they enjoy it very much. It is not uncommon to see westies swimming in a pool or a lake on hot summer days.
Important Things To Remember: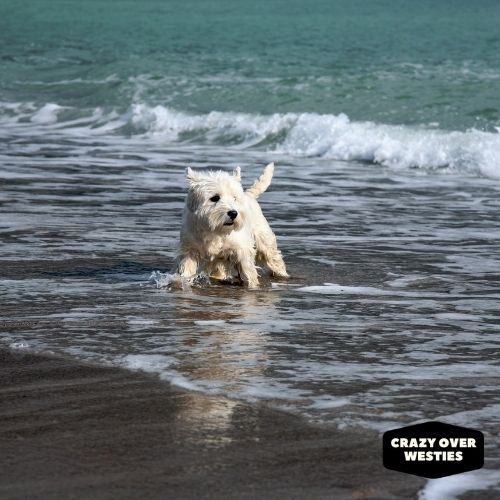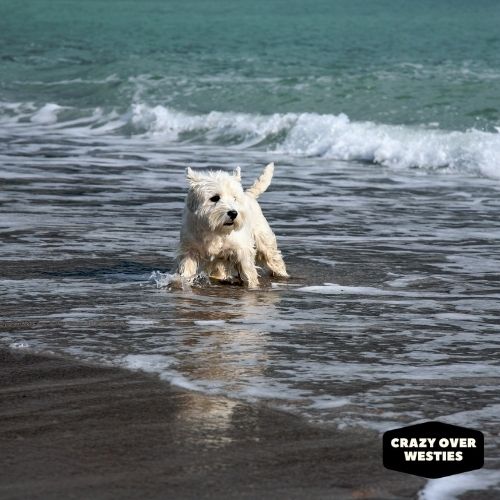 There are a few key aspects when it comes to swimming with a Westie. They include safety, training, supervision, and more. All of these aspects come into play during the experience of letting your dog swim in the water.
What Is The Best Time To Begin:
The best time to let a dog learn to swim is during the earlier part of its life. Basically, as early as possible.
Also, the amount of water and how deep they go depends on how confident they are in their ability. Confidence should grow with practice and with help and patience from you.
Remember to start out with shallow water such as the shallow end of a pool. Then let them gradually go deeper over a time period. Above all don't rush it.
In addition, ensure that the area of water where the training is taking place is clean. You don't want them picking up any infection from the water.
This can be done by checking the water quality of the training area and also if there are any fish or other animals in the water.
Make Sure That They Are Safe:
West Highland White Terriers are particularly good at jumping, diving, and other water activities. They can easily become sick or injured if they don't have anything to keep them safe in a clear pool.
This is why it's not recommended to let your pet have unsupervised access to pools or any other body of water.
Do We Need a Life Jacket: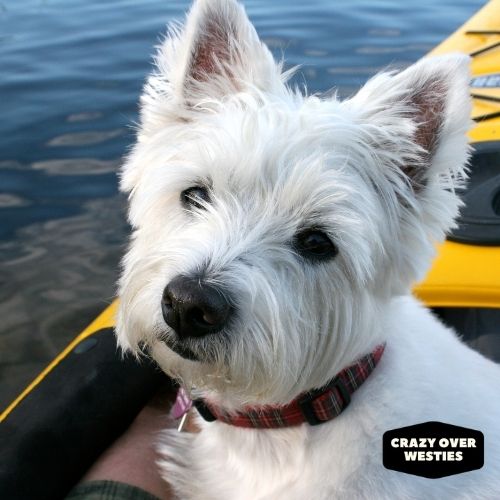 A life-vest is really helpful and important. They help keep your dog's head above the water and make it easier to guide them while you swim. This is especially important when they need to take deep breaths.
If your pup hasn't quite mastered the art of swimming, an inflatable life-jacket can be a lifesaver! They're not the most pleasant to wear but they could help them enjoy their first swim or save their lives in an emergency situation.
Keeping Westies and Owners Healthy:
Swimming is an excellent way for your dog to stay fit and healthy. Research has shown that swimming sessions significantly improve fitness levels, cardiovascular health, alertness, and muscle tone.
Swimming is a great sport. It has many benefits for both owners and pets. In addition, it can be done as often as you want.
It is a really good exercise that can help your body stay healthy. You will feel better and have more energy when you do it regularly. The best part? It's free to do!
How Much Exercise Does A Westie Need: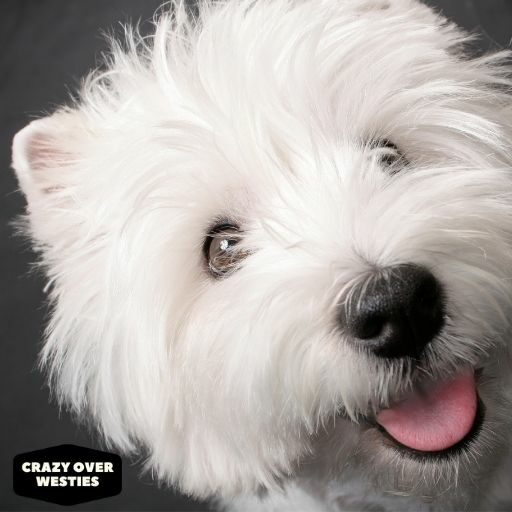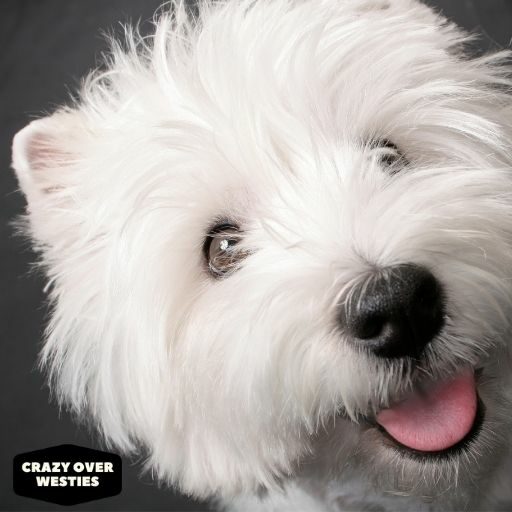 A Westie should get plenty of exercise. Depending on their personality and age, they should be kept active anywhere from an hour a day to two hours a day.
If your dog likes water, they can swim as a form of exercise and it is one of the best types of exercise for both dogs and owners.
Westies are a great option for people who love the outdoors and for people who need to save on time because they have a lot of dogs. They're energetic and intelligent, so you'll want to make sure that they get exercise too.
Whether you swim is one of the best choices of exercise you can make. Research has shown that choice also depends on age, personality, and what other hobbies are prevalent in your lifestyle.
——————-
FAQS:
———————–
Conclusion:
Westies can be a lot of fun, but they also can need a lot of exercise. This will depend on the dog's age and personality, for the amount required.
If your west highland terrier has joint or tendon injuries or is recovering from surgery, swimming is a great way to help them get back on their feet! Dogs with arthritis can be a great candidate for swimming because it increases joint mobility, which can help their condition immensely.
As always if you're unsure of anything about what your pet's swimming needs are, always consult your vet.
——————————
Disclaimer: All material on this website is provided for your information only. It may not be construed as medical advice. No action or inaction should be taken based solely on the contents of this information. Instead, readers should consult appropriate health professionals or veterinarians on any matter relating to their pet's health and well-being. The publisher is not responsible for errors or omissions.