West Highland Terriers are a popular dog breed but unfortunately, they are also prone to a handful of health problems. According to the America Kennel Club ( AKC), they are the sixth most popular dog breed in America.
Please read on to discover the most common health problems found in Westies.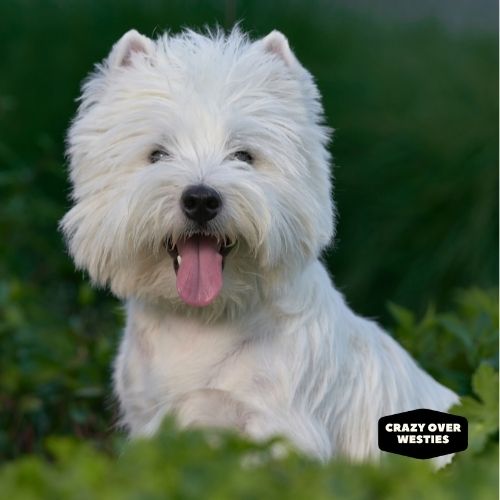 Allergies:
Westie's and allergies go hand in hand. The study found that 66% of Westie's will have an allergy by age of three. Epidermal dysplasia, a rare and degenerative disease, is the most common allergy-triggered by Westies.
This condition usually affects dogs between 3 and 12 months old and is caused by a skin fungus. The skin fungus makes their head, feet, and belly inflamed and itchy. The infection gradually spreads over the dog's whole body causing hair loss and recurrent skin yeast infections. It causes a painful condition for your dog.
White Shaker Dog Syndrome:
This is a disease that can affect some small breeds of dogs, most often around two years old. This condition may also cause tremors, seizures, and difficulty walking in some cases.
There is no cure for white shaker dog syndrome ( WSDS), but it generally responds well to steroids. Some cases may disappear with time, but your dog may end up needing the medication for the rest of its life.
As always, check with your vet should you have concerns about your pet's health.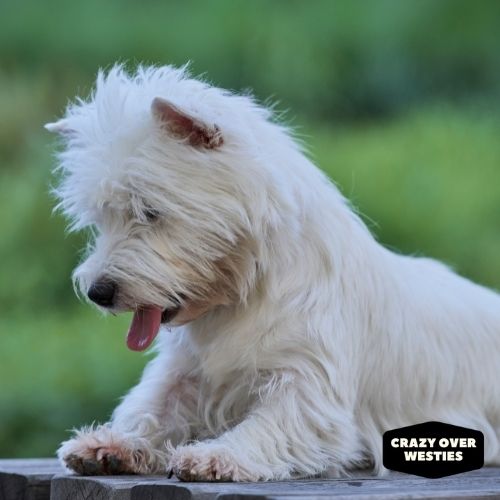 Orthopedic Problems:
Orthopedic diseases in West Highland White Terriers can range from hip dysplasia to Luxating patella (loose knees).
Hip dysplasia:
This is a problematic joint disease that many Westie Terriers have accrued at some point, is another common disease that's been discovered.
Luxating Patella:
Patella luxation in dogs is when the knee cap (patella) slips outside the joint groove. The patella is held in place with a groove on the femur, preventing the knee from extending fully.
One leg might be more often affected but both knees can show signs of the condition in up to 50% of dogs.
Pulmonary Fibrosis:
Westie's are very susceptible to pulmonary fibrosis and what is also referred to as "Westie lung disease." This condition causes a build-up of scar tissue, eventually making it difficult for dogs to breathe.
Unfortunately, this is a fairly common ailment and it can be very difficult to treat because there isn't a lot of information available yet.
Lung tissue is often damaged due to long-term lung inflammation caused by various irritants, such as infections & pollutants in the air.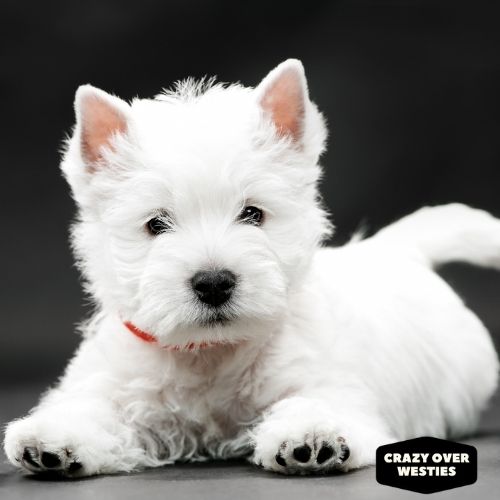 Inflammatory Bowel Disease:
Westies, while not at risk of dying from the condition, can still suffer from health concerns. In most cases, it is believed to be a result of unknown causes.
There are a few clues you can recognize, to know if your dog has this condition, including weight loss, diarrhea, offensive stool smell, flatulence, and vomiting. IBD can affect your stomach & small-large intestine. The severity of the condition can vary from mild to severe.
Cancer:
Westies can suffer from cancer or respiratory disease. Over ten percent of all Westie fatalities are caused by cancer, the same number that is caused by respiratory disease.
However, cancer is a very common cause of death across all dog breeds, with just over one in ten dogs succumbing to it.
Westie Lung Disease:
Idiopathic lung fibrosis is a progressive idiopathic pulmonary fibrosis of unknown etiology affecting the respiratory system.
It is an insidious disease that, over a 12-18 month period, slowly starts to restrict the lungs from functioning entirely. The main symptom of this is shortness of breath which worsens as time moves on.
FAQS:
Conclusion:
As with all dogs, please check with your vet if a health condition continues for longer than is normal or if you are worried about your pet's health condition. They are part of your family and therefore too important to take chances with their health.
————————-
Disclaimer: All material on this website is provided for your information only. It may not be construed as medical advice. No action or inaction should be taken based solely on the contents of this information. Instead, readers should consult appropriate health professionals or veterinarians on any matter relating to their pet's health and well-being. The publisher is not responsible for errors or omissions.